#454. 'Utulau – idyllic beach front
This property consists of a two bedroom, two bathroom home which is fully furnished. It has a swimming pool on the deck overlooking the ocean. There is a lovely sandy beach for swimming only 5 minutes walk from the house.
During the whale season you will see them while enjoying a glass of wine on the deck. The property even comes with a bus as well as an extra small home outside for guests or staff.
The property has a land area of 4,000m2 (about one acre) with about 92 years lease left remaining in place. The asking price is $795k TOP.

#425. Vava'u Paradise – Lifestyle, Palace and Income
Prepare to be amazing by this stunning two storey house with five bedrooms and three bathrooms. The home is effectively two houses in one with two kitchens, two living/dining rooms, and two water-view decks. There's also a gym with treadmill and exercise-bike and yoga mats. There's also a laundry room with 10kg Fisher & Paykel washing machine, laundry tub and storage shelves. Upstairs also has storage cupboards with linen, towels etc.
There is a two vehicle carport and additional car parking space for another vehicle. House has a 50,000 litre tank of fresh water with pump that supplies the whole house and option to use town water if needed. Also has a great hot water system. The house also features two storerooms for gardening equipment and other goods.
The house has a fantastic private wharf with "sea fale". The property comes with kayaks and paddles and there is an outdoor stainless steel shower for after swimming. The wharf is made from marine grade timber shipped from New Zealand.
The house is fully furnished with queen-sized beds in each room and dresser/drawers. The living areas have leather sofas, dining tables and chairs, flat screen TVs, mirrors, shelves and more.
Kitchen area has cutlery, crockery and glassware – more than you'll ever need. Both kitchens are equipped with Fisher & Paykel fridge/freezers while upstairs has a gas oven and hob (downstairs has a gas hob). Downstairs is fully air conditioned. Each level has its own vacuum cleaner. All the furniture was purchased and shipped from New Zealand. Each level of the house has its own separate entrances which means you can live the dream while earning income from your property if you rent it out or offer a B&B. Upstairs entrance door uses a Yale electronic digital lock. Other doors have professional locks acquired together with doors from Rylock NZ.
This fabulous property is yours on a 45 year lease for a very reasonable price of NZD $1.475M – probably one of the most idyllic properties in the entire Kingdom.

#73. Ideal Lifestyle/Investment Property by Lagoon
This 500 m2 luxury home is located on 5,385 m2 of land right on the edge of the Fanga'uta lagoon on Tonga's main island of Tongatapu.
Only 2.5 kms from the capital Nuku'alofa, the highlights of the house include 5 bedrooms (all ensuites), large kitchen, walk in pantry, dining room, living room, lounge, 2 guest toilets, laundry, and double garage. The house also includes air conditioning and central heating.
The property has two leases: one with 56 years remaining, and the other with 49 years. With 30,000 L of rainwater storage, high fencing, security cameras, alarm system and generator, this feature-packed home offers comfort, security, serenity and peace of mind.
First designed and built in 2006, the house was further renovated and extended in 2009 and 2014. The property is currently leased by the Embassy of Japan until November 2019. The attractive rental rate is available on application. Located right on the lagoon, there is the potential for adding a tennis court, swimming pool, jetty, boat shed or ramp to further enhance the lifestyle aspect of the property.
This property offers reliable revenue and an excellent return on investment. It also offers an excellent lifestyle package, close to nearby idyllic islands and easy access to international and domestic flights.
Download the brochure: (PDF)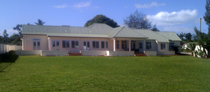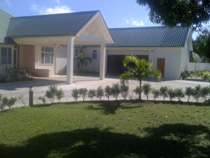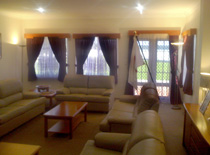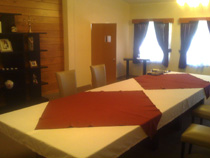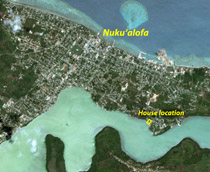 Contact Property Tonga